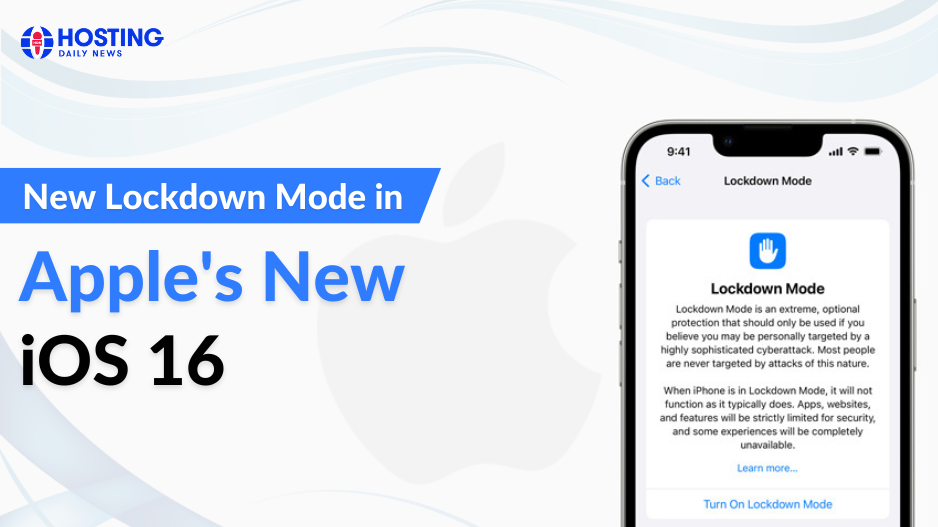 How to Use iOS 16's Lockdown Mode to Make Your Device More Secure
The newly updated mobile operating system includes a unique security lockdown mode designed to protect against commercial spyware attacks.
Apple's iOS 16 is now available, which implies new features. If you have an iPhone and want to adjust the settings to better safeguard your digital privacy, there are a couple of new options to explore.
The most striking feature is Lockdown mode, which was created to protect users against spyware and other dangerous attacks that seek to access your device and steal their data. Apple initially introduced the function in July in response to an increase in reports of malware assaults on iPhone owners. Apple created Lockdown primarily for people who have been attacked, but with the release of its new mobile operating system, Apple has made Lockdown available to everyone. Let's go through the new feature, how to activate it, and why you would want to.
How to Activate Lockdown Mode
It is really simple to activate Lockdown. Go to Settings on your iPhone, then select Privacy and Security, and then Lockdown Mode. It's as easy as that.
How Does It Work?
Lockdown, as the name implies, restricts any vector that has historically been used to spread malware. Most attachments in iMessage are blocked by Lockdown (which are commonly used for cyberattacks). It also prevents connected connections to computers or other devices, as well as inbound invitations or requests (such as FaceTime invites) unless the user has already scheduled them with you. Various types of code are also blocked from running on the device in some instances (the announcement cites just-in-time (JIT) JavaScript compilation as an example).
In other words, it turns your phone into a fortress and only allows access to those you already know. This is beneficial if you want to protect yourself, but it also means that iOS will not perform as smoothly as it used to. Engaging in lockdown mode may, in fact, substantially impair device operation.
The good news is that 99.9% of iPhone owners will not require it. Lockdown was created exclusively for those who are being tracked by commercial malware (think: journalists, diplomats, activists, etc.). When Apple initially introduced the feature, they highlighted that it was an "extreme, optional degree of protection for the very few." If you're wondering if you qualify, you probably don't. Still, it's a useful function, and it's excellent that Apple decided to make it available to everyone.
Other New Safety Features to Consider
Safety Check is another new security feature worth exploring. This feature, like Lockdown, was created to safeguard a tiny group of iPhone users who are vulnerable to severe scenarios, such as victims of abusive relationships and domestic violence.
Remote monitoring software is frequently used by stalkers and abusive spouses to spy or follow their victims. Safety Check, which was created in partnership with a variety of victim support organizations, allows a user to check and revoke access to their device, essentially cutting off any person or program that may be illegitimately accessing their data. Users may change passwords and passcodes, stop sharing their location and other information with others, and generally restore control of their devices if their settings have been tampered with if they are being watched.
During the June launch of Safety Check, Katie Skinner, Apple's privacy engineering manager, stated that the feature "allows people in abusive circumstances to rapidly deny an abuser's access to their data and location, enabling them to sever ties and get to safety."
How to Activate Safety Check Mode
Turning on Safety Check requires many steps, but they are rather simple. To begin, navigate to Settings, then Privacy & Security. Scroll down and click the Safety Check button. Following that, you'll have the choice of clicking Emergency Reset or Manage Sharing & Access.
If you do decide to upgrade to the new iPhone 14, you should look at a number of additional new security measures (check out the revamped, satellite-powered Emergency SOS feature and car crash detection tech). You can find more thorough information on all of Apple's security features in its Personal Safety User Guide, which includes documentation and how-to instructions for customizing privacy and security settings.