According To Research, The United States is The Best Place in The World for Cloud Startups
Cloud computing refers to the supply of computer services such as servers, storage, databases, networking, software, analytics, and intelligence through the Internet or the "cloud." It helps businesses grow more quickly, have more flexible resources, and achieve economies of scale. Organizations pay just for the cloud services they use, which lowers operational costs and improves infrastructure effectiveness.
Cloud computing represents a significant shift from how businesses have traditionally used IT resources. Because of digitalization and new technological breakthroughs, corporations have been migrating to the cloud in recent years.
The majority of cloud computing services are classified as infrastructure as a service (IaaS), platform as a service (PaaS), serverless computing, or software as a service (SaaS). The cloud has enabled businesses of all sizes to become more productive and self-sufficient. Entrepreneurs and inventors will continue to push the cloud sector to new heights as it grows and new technology emerges.
Countries With Most Number of Cloud Firms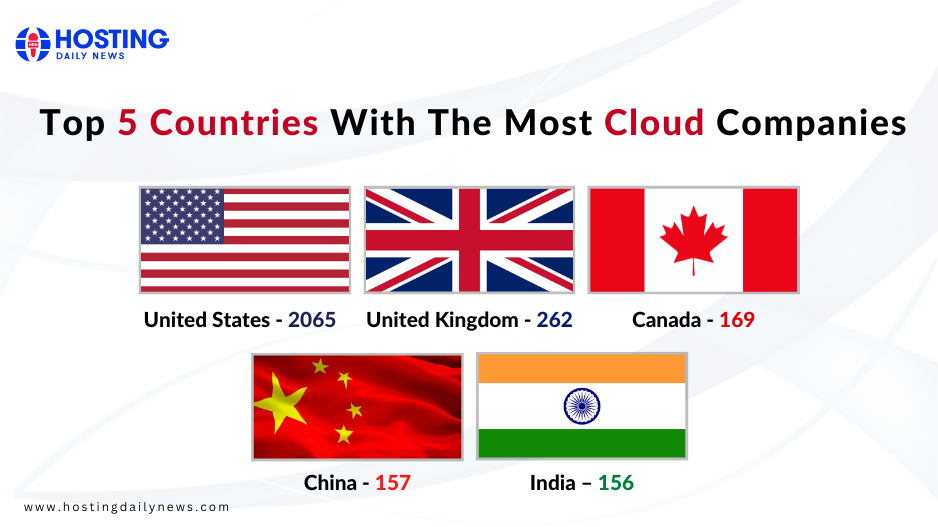 Top 5 countries with the most cloud companies
United States – 2065

 

United Kingdom – 262

 

Canada – 169

 

China – 157

 

India – 156

 
The United States is well-known for having a large number of entrepreneurs working on new technology. This makes it an ideal location for developing innovative cloud-based products. It is the home of around 2065 cloud enterprises.
The United Kingdom comes in second with 262 cloud firms. In this regard, the government has established basic objectives to "maintain strategic advantage" in technical breakthroughs by 2023. European nations, such as Sweden, France, and the Netherlands, have the most diversified clusters of cloud-based enterprises, with more on the top 20 list than any other continent.
Canada, China, and India are in third, fourth, and fifth place, with 169, 157, and 156 cloud companies, respectively.
United States Has the Most Cloud Companies
The United States is well-known for hosting some of the greatest cloud computing enterprises in the world. These include both established firms and startups. California is the clear leader, with 842 cloud enterprises in the state alone. Silicon Valley, located in Northern California, has long been recognized as a global center for high technology and innovation, with cloud enterprises spanning the state from Santa Clara to Palo Alto and Cupertino to Irvine.
New York (151) and Texas (148), respectively, are forging their own routes in the United States' East and South. In comparison to California's cloud catalogue, these 299 enterprises are substantially smaller. These, on the other hand, have the potential to expand and develop in the future.
The Expansion of Cloud Startups
The US has a long history of being a prominent player in the cloud industry. Other countries, though, are catching up, and the future may look very different. The table below shows the top five emerging nations for cloud startups. They were ranked based on the number of cloud-based businesses launched in the previous five years and plotted against the population of each nation to demonstrate the real scope of growth.
| | | |
| --- | --- | --- |
| 1  | Israel, 9m Population  | 76 Startups, 8.4/Million  |
| 2  | Estonia, 1.3m Population  | 10 Startups, 7.54/Million  |
| 3  | Luxembourg, 0.6m Population  | 4 Startups, 6.14/Million  |
| 4  | Singapore, 6m Population  | 33 Startups, 5.52/Million  |
| 5  | Cyplrus, 1.3m Population  | 5 Startups, 3.99/Million  |
Israel has a rapidly developing cloud startup ecosystem, with 76 cloud businesses established since 2017. It has the greatest proportion (8.4) of cloud-based enterprises per million people.
Singapore is another nation with strong development in the cloud market. It will have exceptional cloud computing talents in the future. Over the previous five years, 33 cloud computing firms have been established in Singapore. It has 5.5 cloud startups for every million people. Furthermore, Singapore boasts a comparatively low corporation tax rate of 17% and one of the world's fastest internet speeds of 211 Mbps.
Despite its tiny size, Cyprus is another cloud hub to keep an eye on. It has a 12.5% corporation tax rate. Its Cypriot Investment Program grants foreign investors citizenship at a quicker rate. Since 2017, 5 cloud computing firms have been started here. Many more businesses are predicted to emerge in the not-too-distant future.
The Top Five Cloud Companies in terms of Finance
Organization

Total Funding

Investors

Top 5 investors

eStruxture 

$919m

 

6

 

Deutsche Bank 

Scotiabank 

Cassie de Depot et Placement de Quebec 

National Bank of Canada 

Fengate Asset Management 

Kitopi 

$804m

 

20

 

B.Riley Financial 

Softbank Vision Fund 

Global Ventures 

Endeavor Catalyst 

VentureSouq 

Group 42 

$800m

 

2

 

Silver Lake 

Mubaldala 

MegazoneCloud 

$673m

 

20

 

Salesforce Ventures 

MBK Partners 

KB Financial Group 

Korea Investment Partners 

Korea Development Bank 

Axonius 

$665m

 

18

 

Accel 

Vertex Ventures 

Lightspeed Ventures Partners 

Bessemer Venture Partners 

Stripes 
eStruxture, based in Montreal, is Canada's largest network and colocation data center provider. Since its debut in 2017, it has gotten the most financing. The company attracted about $919 million in financing from major investors such as the National Bank of Canada. It operates 15 data centers in Canada.
Kitopi is situated in Dubai and provides services that allow restaurants to operate in delivery-only locations. Since 2018, it has received nearly $800 million in investment. Kitopi currently employs a dual approach. It mixes cloud kitchen technology with traditional restaurant knowledge. This allows for more comprehensive data acquisition for its consumers.
Group 42, often known as G42, is headquartered in the United Arab Emirates. It has received a significant amount of financing. Over the course of four years, the Silver Lake and Mubadala-backed company raised $800 million for its AI-focused projects.
MegazoneCloud is an AWS Cloud MSP that has led the Korea Cloud Market since 2012, when it was chosen as the country's first AWS official partner. Megazone Cloud received a $673 million investment from Salesforce Ventures, MBK Partners, KB Financial Group, Korea Investment Partners, and Korea Development Bank.
Axonius is a New York-based company that provides infrastructure and security operations solutions. It was able to raise $665 million in investment.
The cloud computing sector is expanding rapidly and shows no signs of stopping. Although 2017 was the year of cloud computing, this industry is anticipated to expand even more in the coming years. It's no surprise that cloud startups will continue to climb as organizations become more digital and dependent on technology.