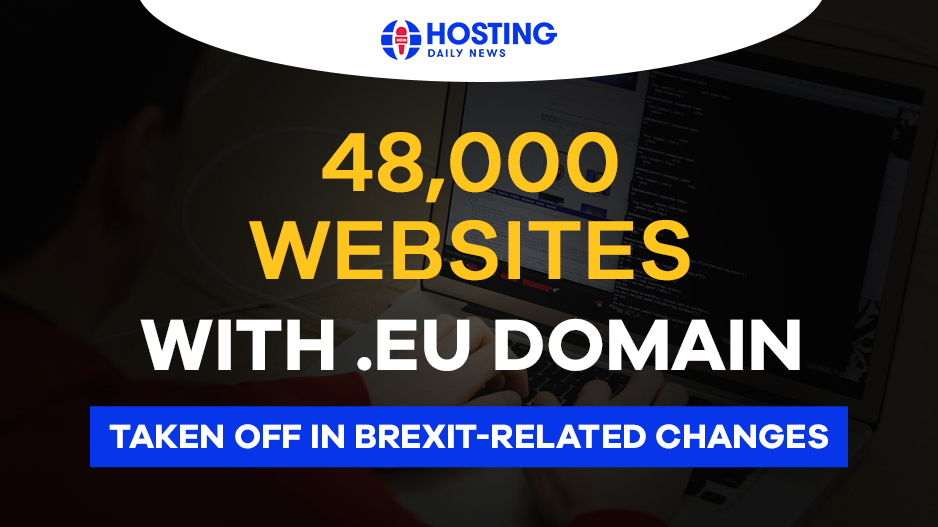 Thousands of .EU Websites Suspended Due To Brexit-Related Changes
Thousands Of .EU Websites Suspended Due To Brexit-Related Changes
Earlier this Monday, nearly 48,000 .EU domains were taken off as the British citizens and companies that own them were no longer permitted to hold these domains. The news was confirmed in an announcement by the European Union's domain registry administrator, EURid.
This move marks the end of the ongoing process involving the U.K. exit from the European Union on January 31, 2020.
The report published on the EURid website on 3rd January 2022 stated that it had revoked and released all the affected domains, after it moved them to the 'WITHDRAWN' status on 1st July 2021.
A EURid spokesman told Politico, "Over the past 12 months, our staff has been working tirelessly to support the holders of these domain names and follow up on the numerous requests to reinstate a domain name into the registered status as soon as the eligibility criteria are met".
However, the revoked domain names are still eligible for general registration on a "first come, first served" basis.
The Eligibility 
The U.K.-based owners of the suspended domains were informed prior that they would need to prove their eligibility for an EU domain. If they failed to do so, they would risk domain suspension. This clearly meant their domains would no longer be able to support web hosting or email functionality.
It also stated that those who posed European Union residency or citizenship will be able to re-register immediately their .eu domains as of Monday.
The Following Citizens & Organisations Are Eligible To Register .EU Domain Names:
An EU citizen, regardless of their place of residence.
An undertaking that is set up in the EU; or
An individual who is not an EU citizen and is a resident of a Member State; or
An organisation that is set up in the EU, without impacting the national law application. 
Besides, any British .eu domain name holder who moved their domain's address from a UK address to anywhere in the EU would be eligible to retain the domain.
---
If you enjoyed this post, you will undoubtedly enjoy this one as well –